National Geographic Orion
Lindblad Expeditions
Cruise #: 2664314
Departs: Mon, Mar 13, 2023
Returns: Fri, Mar 24, 2023
Save Favorite
Track this Cruise and get Price Alerts.
Inside
Outside
Balcony
Suite

Please
Call

from

$13,380

per person

Please
Call

from

$18,820

per person
Tap the "Send Quote" button to get a quote include unadvertised prices including Senior, Military and Resident promotions.
Send Quote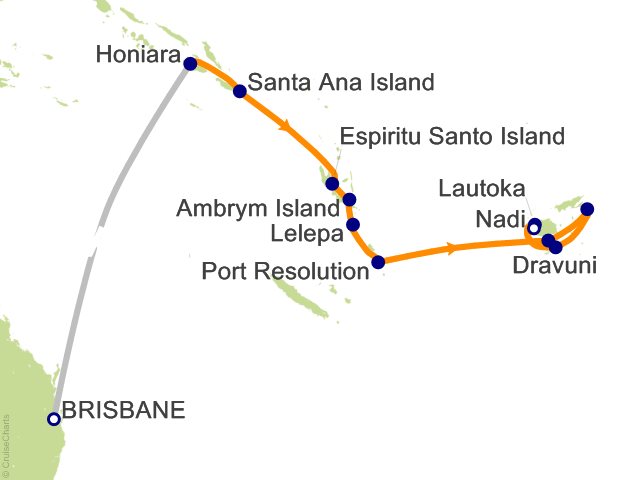 Land Segment of Itinerary
Sunday - Mar 12, 2023
Depart the U.S. and arrive in Brisbane, Australia, where we check into our hotel. Join a welcome briefing this evening to meet your fellow travelers.
Monday - Mar 13, 2023
Cruise Segment of Itinerary
Day 2 - Monday - Mar 13, 2023
Have breakfast at the hotel before transferring to the airport for a flight to Honiara, a former U.S. supply depot and a strategic WWII battleground. Tour around the outskirts of the city to see sites well known from the Battle of Guadalcanal in 1942-43. See the shores of Red Beach and the vital airbase
at Henderson Field. Visit the hills above Honiara where some of the fiercest battles took places. Then, embark National Geographic Orion in the late afternoon. (B,L,D)
...


Read More
Tuesday - Mar 14, 2023
Santa Ana , Solomon Islands
On the tiny isle of Owaraha (formerly known as Santa Ana), we're greeted with a traditional dance performed by villagers in elaborate costumes, body paint, and masks. Walk across the small island to Nafinotoga to see Spirit Houses containing the skulls and bones of ancient chiefs of the Snake Clan and
the Turtle Clan. (B,L,D)
...


Read More
Wednesday - Mar 15, 2023
Take advantage of a full day at sea to settle into the relaxed pace of life on board. Watch for marine life from the deck, study our route on the navigational charts, and attend talks by our experts. (B,L,D)
Thursday - Mar 16, 2023
Captain James Cook named the islands of Vanuatu the "New Hebrides" because they reminded him of the rugged isles off Scotland's coast. On the main island of Espiritu Santo, experience one of the best wreck dives in the world: the S.S. President Coolidge, a luxury cruise liner used as a troop carrier
during World War II. Alternatively, enjoy a serene canoe paddle to the Riri Blue Hole, a jewel-blue freshwater source surrounded by jungle. (B,L,D)
...


Read More
Friday - Mar 17, 2023
Ambrym is known for its active volcanoes, black-sand beaches, and mystery and magic. Arrive ashore to witness the striking Rom dance, traditionally a secret event. Involving incredible masks and elaborate outfits that represent spirits, this is a cultural
experience specific only to this island. (B,L,D)
...


Read More
Saturday - Mar 18, 2023
Ride Zodiacs to Lelepa to visit Vanuatu's first and only UNESCO World Heritage Site, the final residence and burial site of 17th-century Chief Roi Mata. Here, we'll be welcomed with traditional songs and dance, and enter the impressive Fels Cave. (B,L,D)
Sunday - Mar 19, 2023
On Tanna Island, visit the friendly community in Port Resolution in the shadow of Mt. Yasur. Experience some of the local traditions and dances, as well as locally made handicrafts. Sample the strong, local kava made for special celebrations. (B,L,D)
Monday - Mar 20, 2023
Relax on deck as we make our passage from Vanuatu to Fiji or attend talks by our expert expedition and photo teams. (B,L,D)
Tuesday - Mar 21, 2023
More than 300 islands make up the remote volcanic archipelago of Fiji and we will be exploring here for three days. After entering the large lagoon of Beqa, come ashore at the lovely Lawaki Beach Resort, a rustic and beautiful place to spend the day. Take a boat ride and hike through across the island
to a local village. Taste local fruits and snorkel off the beach in the beautiful Beqa Lagoon. Beqa is considered the traditional "home" of the Fijian firewalker. Witness this dramatic ceremony and the incredible strength and discipline required to perform it. (B,L,D)
...


Read More
Wednesday - Mar 22, 2023
Taveuni, Fiji's third largest island, is known as "The Garden Island" for its rich vegetation, which includes several species found nowhere else in the world. Head inland to discover the waterfalls of Bouma National Heritage Park and search for species such as orange fruit doves, endemic silktails, fantails,
and parrots. Visit the village of Waitabu to meet the local people, taste locally harvested fruits and prepared baked goods, and see a dance performance by some of the talented local children. (B,L,D)
...


Read More
Thursday - Mar 23, 2023
Join the ship's naturalists for a beautiful scenic hike to see some of the incredible vistas and the rich variety of bird life. Explore the lovely village of Dravuni, or snorkel and dive in the refreshing Fijian water, rich in marine life. Enjoy a quiet exploration of the lagoon by stand-up paddleboard
or kayak. (B,L,D)
...


Read More
Friday - Mar 24, 2023
Land Segment of Itinerary
Day 13 - Friday - Mar 24, 2023
Disembark in Lautoka this morning. Take a tour of western Viti Levu Island then, transfer to the international airport at Nadi for flights home or choose to extend your stay and check into a hotel. (B,L)
We promise to protect your privacy and personal data. You can review our privacy policy here.
This cruise line does not offer live online pricing. Please complete the form below for a quote on this cruise or call for rates.
How many are traveling
Adults (Age 18 and over)
Kids (6 months to 17 years)
First NameLast NameState of ResidencePhone NumberEmail AddressAny special request or comments?
Submit Request >