National Geographic Sea Lion
Lindblad Expeditions
Cruise #: 1684688
Departs: Tue, Jun 20, 2023
Returns: Sun, Jun 25, 2023
Save Favorite
Track this Cruise and get Price Alerts.
Oceanview
from
$4,890
per person
Tap the "Send Quote" button to get a quote include unadvertised prices including Senior, Military and Resident promotions.
Send Quote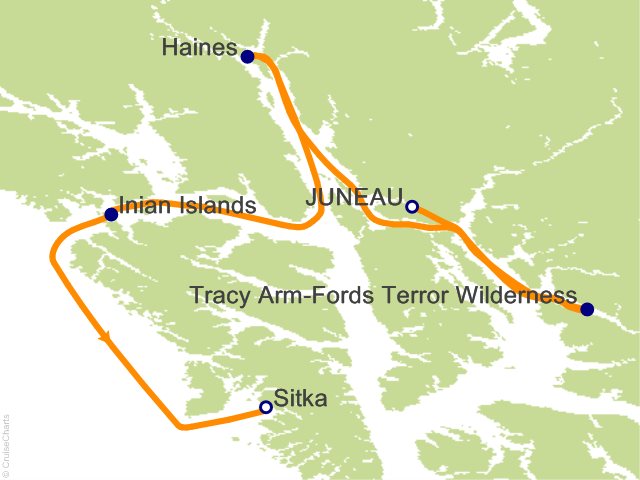 Cruise Segment of Itinerary
Tuesday - Jun 20, 2023
Arrive in downtown Juneau and take in the incredible view of the Gastineau Channel from the top of Mt. Roberts. Embark National Geographic Sea Bird or National Geographic Sea Lion in the early evening. (B)
Wednesday - Jun 21, 2023
Tracy Arm-Fords Terror Wilderness, Alaska
Wake up in Tracy Arm or Endicott Arm, part of the Tracy Arm-Fords Terror Wilderness. Cruise through this glacially carved fjord, then set out to explore by Zodiac. View the soaring Dawes or South Sawyer Glacier up close, and keep an eye out for the dramatic sight of huge slabs of ice breaking off and
crashing into the water below. If conditions permit, paddle a kayak below the steep walls of the fjord. (B,L,D)
...


Read More
Thursday - Jun 22, 2023
Known as the "adventure capital of Alaska", Haines is situated on a scenic peninsula between the Chilkoot and Chilkat Rivers. Hike one of the many world-class trails in the area, enjoy an optional flight-seeing tour over Glacier Bay National Park, or cycle along the edge of a glacial lake. Or visit the
ancient Tlingit village of Klukwan and enjoy a traditional dance and cultural performance before setting off on a rafting excursion, keeping an eye out for bald eagles, bears, and moose as we float through the spectacular Chilkat Bald Eagle Preserve. (B,L,D)
...


Read More
Friday - Jun 23, 2023
Inian Islands, United States
Spend today searching for wildlife in rich waters where the Pacific Ocean meets the Inside Passage. Options include a Zodiac cruise among the Inian Islands, where an abundance of Steller sea lions reside; kayaking in the calm outer waters of Glacier Bay;
or hiking in lush temperate rainforest. (B,L,D)
...


Read More
Saturday - Jun 24, 2023
Captain's Choice, United States
Explore the breathtaking bays of Baranof or Chichagof Islands, both part of the ancient Tongass National Forest. Chichagof Island harbors one of the highest concentrations of brown bears in the world, and both islands are home to diverse wildlife. Kayak or paddleboard along rugged coastlines, and in
the afternoon, go hiking through the temperate rainforest, listening for bald eagles calling out from the tops of towering spruce and hemlock trees. (B,L,D)
...


Read More
Sunday - Jun 25, 2023
Disembark in Sitka, situated on the western coast of Baranof Island and overlooking the Pacific Ocean. Take a walk in Sitka National Historical Park, where Tlingit and Haida totem poles tower over coastal trails. Visit the Alaska Raptor Center for an up-close look at Alaska's birds of prey. Transfer
to the airport for flights home. (B)
...


Read More
We promise to protect your privacy and personal data. You can review our privacy policy here.
This cruise line does not offer live online pricing. Please complete the form below for a quote on this cruise or call for rates.
How many are traveling
Adults (Age 18 and over)
Kids (6 months to 17 years)
First NameLast NameState of ResidencePhone NumberEmail AddressAny special request or comments?
Submit Request >