National Geographic Quest
Lindblad Expeditions
Cruise #: 917258
Departs: Sun, Aug 27, 2023
Returns: Sun, Sep 3, 2023
Save Favorite
Track this Cruise and get Price Alerts.
Oceanview
Balcony
Suite

from

$7,560

per person

Please
Call

from

$10,920

per person
Tap the "Send Quote" button to get a quote include unadvertised prices including Senior, Military and Resident promotions.
Send Quote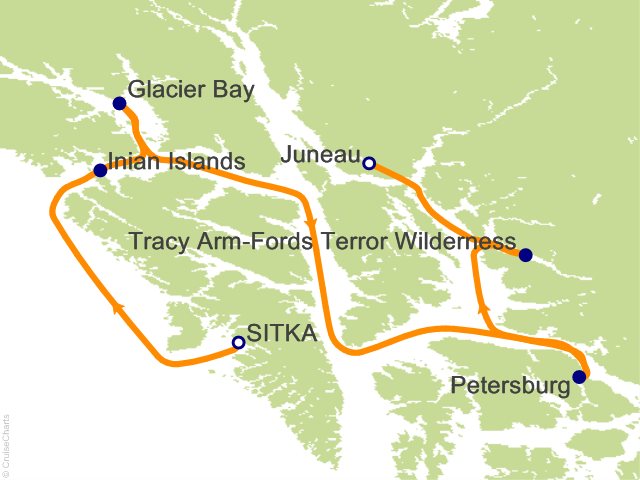 Cruise Segment of Itinerary
Sunday - Aug 27, 2023
Our Forest Service Special Use Permit for Tongass National Forest enables you to hike and kayak in wild and remote areas of Southeast Alaska. Arrive in Sitka, southeastern Alaska's only oceanfront town. Sitka has a strong Russian heritage, which is readily apparent as you visit the onion-domed St. Michael's
Russian Orthodox Church. At the Raptor Rehabilitation Center, we have close views of species normally seen at a distance in the wild-bald eagles, hawks, falcons, and owls. Gather for a welcome dinner this evening. (D)
...


Read More
Monday - Aug 28, 2023
Coastal Navigation, United States
Today, nature is our guide as we set forth with the flexibility to take advantage of wildlife and weather conditions. We may stop at an isolated beach to take a closer look at tide pools, beachcomb, and hike stunning forest trails. Keep an eye out for old bear tracks worn into the soil as you move from
forest to meadow. Sightings of bald eagles are very common. If conditions permit, we'll do some kayaking, always watching for marine and terrestrial life. (B,L,D)
...


Read More
Tuesday - Aug 29, 2023
Icy Strait Point, United States
Inian Islands, United States
Explore among the Inian Islands, where an abundance of Steller sea lions and sea otters reside. We'll search for marine mammals in the nutrient-rich waters of Icy Strait and choose the perfect spot around Chichagof Island to hike where sightings of bald eagles are very common. (B,L,D)
Wednesday - Aug 30, 2023
Glacier Bay, United States
We spend the entire day amidst the coves, fjords, tidewater glaciers, and majestic mountains of Glacier Bay National Park. You'll see glaciers that end abruptly at the water's edge and observe them "calving"-tons of ice crashing into the sea-accompanied by an exhilarating thunderous sound. Mountain goats
scaling the peaks as well as harbor seals, Steller sea lions, and puffins are some of the creatures we may observe. A visit to Tidal Inlet may bring the sight of brown bears lumbering up the hillside. A native Tlingit interpreter joins us onboard to share the legend of the area. (B,L,D); Please note: Departures aboard National Geographic Sea Bird visit the outer bays of Glacier Bay National Park and do not enter the permitted part of the Bay.
...


Read More
Thursday - Aug 31, 2023
Frederick Sound, United States
These waters are prime areas for both killer whales and humpback whales. It's not uncommon to observe their fascinating behavior-breaching, tail-slapping, and variations on feeding-as we fill the deck and listen to the play-by-play from our expert naturalists. We'll explore spectacular bays and inlets,
following bear trails and salmon streams. Once ashore, we'll have the opportunity to walk along a quiet forest trail. The still waters are excellent for kayaking, offering another option for up close exploration. (B,L,D)
...


Read More
Friday - Sep 1, 2023
Petersburg, United States
Search for humpback whales as we head towards the small, true Alaskan town of Petersburg on Mitkof Island. Explore a unique Southeast Alaskan ecosystem, the "muskeg", with stunted trees and carnivorous plants. There is an opportunity for optional flightseeing or bike riding. Enjoy a Dungeness crab feast
this evening. (B,L,D)
...


Read More
Saturday - Sep 2, 2023
Tracy Arm-Fords Terror Wilderness, Alaska
Voyage into Tracy or Endicott Arm, both spectacular fjords, with waterfalls cascading from glacially carved walls. See the soaring Dawes or South Sawyer Glaciers up close and take a cruise in a Zodiac for an unbeatable view among sculpted icebergs. Keep an eye out for harbor seals, harbor porpoises,
and Arctic terns. (B,L,D)
...


Read More
Sunday - Sep 3, 2023
Disembark this morning in downtown Juneau. Take time to visit the local shops before exploring the Alaska State Museum, with its sprawling collection of natural history and cultural artifacts. Transfer to the airport for connecting flights home. (B)
We promise to protect your privacy and personal data. You can review our privacy policy here.
This cruise line does not offer live online pricing. Please complete the form below for a quote on this cruise or call for rates.
How many are traveling
Adults (Age 18 and over)
Kids (6 months to 17 years)
First NameLast NameState of ResidencePhone NumberEmail AddressAny special request or comments?
Submit Request >